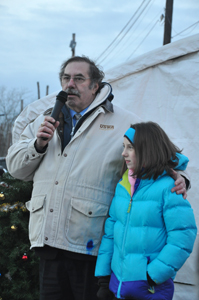 Locked-out members of United Steelworkers (USW) Local 5032 rallied with their union sisters and brothers, as well as labor leaders and activists from around the Pittsburgh area on Dec. 11 outside the Neville Chemical plant on Neville Island.

About 150 people braved the bitter cold to send a message to the company that it is time to settle a fair contract with the more than 100 workers that Neville Chemical locked out of their jobs in mid-August.

The company has insisted that the union agree to freeze the workers' pension plan and replace it with a less-secure 401(k), a position the union members have repeatedly rejected.

"This fight is about the future, not just for us and the men and women who work here, but for our children and our grandchildren," said USW International President Leo W. Gerard, who addressed the rally.

Gerard was joined at the rally by family members of the locked-out workers, as well as members of the USW international executive board, including District 10 Director John DeFazio, Allegheny County Labor Council President Jack Shea, and Labor Council Chaplain Rev. Jack O'Malley.