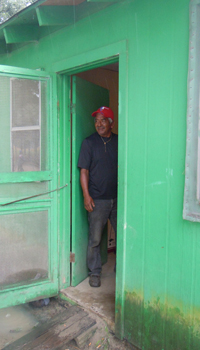 United Steelworkers (USW) Next Generation members Kenneth Bell and James Ford from Local Union 10-00086 at Merck & Co. in Landsdale, PA, joined Liz Shuler, AFL-CIO Secretary-Treasurer and head of the Next-Up: Young Workers Forum, in Goldsboro, North Carolina, for the Farm Labor Organizing Committee's (FLOC) Camp Solidarity.
Camp Solidarity brings members of the labor movement, students and community leaders from across the country to the FLOC office in the heart of North Carolina tobacco country to get a real-life experience of the working and living conditions of a farmworker.
Thousands of farmworkers harvest the tobacco that is turned into cigarettes and other products that produce large profits for tobacco-giant R.J. Reynolds Tobacco Company.
Not only do these workers receive substandard wages, they are exposed to extreme weather conditions and hazardous chemicals in the tobacco field and endure inhumane living conditions in overcrowded labor camps that have no running water and are infested with bugs.
"I always knew big corporations didn't care about the working class but this is an extreme. I can only imagine how many others are out there being treated the way these farmworkers are," said James Ford, a Next Generation member from USW Local Union 10-00086.
Ford, Bell and Secretary-Treasurer Shuler joined FLOC's Founder and President Baldemar Velásquez on a visit to tobacco labor camps and afterward met with members of FLOC who shared their stories of fighting for representation.
"It warmed my heart to meet President Baldemar Velasquez – to know that there are still leaders willing to fight for those who don't have a voice. As a shop steward it helps to give me the courage to do the same," said Kenneth Bell, of USW Local Union 10-00086
Click here to view more photos from Camp Solidarity.
Camp Solidarity is just one element of FLOC's Campaign For Justice – an international effort to organize more than 5,000 tobacco farmworkers and persuade Reynolds, the second largest tobacco company in the United States, to put an end to the human rights abuses farmworkers withstand.
"For the first few years, we didn't have any break besides lunch at noon. But afterwards, with the help of the union, they gave us a break in the morning, the lunch hour, and a break at 3 p.m."
*Miguel, an H-2A worker and FLOC union member
In order to put pressure on Reynolds, the union is:
targeting the tobacco industry's supply chain with consumer boycott campaigns;
planning ongoing actions at tobacco manufacturer's shareholder meetings in the United States and Europe; and
asking its supporters to share their message and tell the farmworkers' stories with their members.
To find out how you can support the Campaign For Justice, visit FLOC's website at www.supportfloc.org.
Who is FLOC?
The Farm Labor Organizing Committee (FLOC), AFL-CIO began in the mid-1960s, when President Baldemar Velásquez convinced a small group of migrant farmworkers in northwest Ohio to come together for their common good. Since then, FLOC continues to build its membership and fight for higher wages, better housing and safer working conditions for farmworkers everywhere.
*Quote from FLOC/OxFam Report "A state of fear: Human rights abuses in North Carolina's tobacco industry."