Calls on government to peacefully resolve 3-year dispute at Grupo Mexico
Contact: Ben Davis, 412-562-2501; 202-550-3729; bdavis@usw.org
Pittsburgh, PA (Aug. 20) – Leo W. Gerard, International President of the United Steelworkers (USW), today announced a cross-border effort is being undertaken to place a rotating team of international observers in northern Mexico's city of Cananea to monitor the presence of 3,000 illegal federal police who are intimidating striking copper miners of the Los Mineros independent union.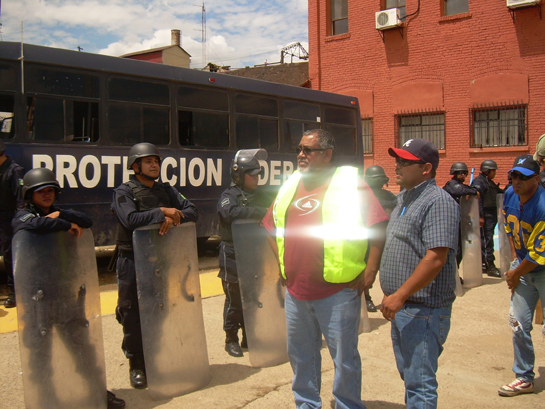 USW Observer on Los Mineros Cananea Picket Line—Luis Aguilar (wearing vest) of USW Local 1010 at ArcelorMittal, East Chicago, IN, with intimidating line of so-called 'Federal Protection' police, who in reality are strikebreakers.
"We are in full support of the Los Mineros strike that passed a three-year mark last month, where a constitutional appeal for a temporary injunction against government efforts and mining giant Grupo Mexico to break the union was just won," Gerard declared. "But we are concerned that the massive federal police presence is not in keeping with the court ruling and allows protection of the strikebreakers paid by Grupo Mexico to disregard the rights of the union miners."
Gerard said the USW will sponsor the first group of international observers arriving in Cananea over this weekend with American volunteer workers recruited in the midwest and from southwest border states. He said international human rights groups will be joining the effort to train a rotating team of observers to be near the picket lines with the miners.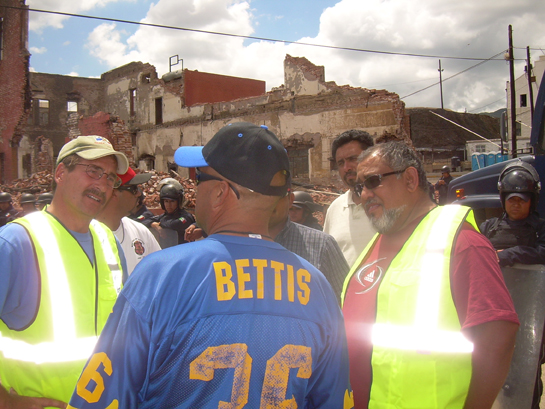 Matt Beckeman (left/vest) and Luis Aguilar (right/vest)mingle with the Los Mineros striking copper miners as peace keepers and trained observers from USW Local 1010 at ArcelorMittal, East Chicago, IN., in Cananea, northern Mexico.
The copper mine in Cananea's Sonora state is among the largest in Mexico and is located across the U.S. border about 60 miles south of Tucson, AZ.
The USW has called on the Mexican government to remove federal and state police forces from the Grupo Mexico mine installations in Cananea shortly after Los Mineros – or the National Union of Mining, Metallurgical, Steel and Allied Workers of Mexico -- won a constitutional appeal on Aug. 11 before the Ninth District Judge in the state of Sonora. The judge ruled a strike the union began on July 30, 2007 is still in legal existence, even though police forcibly removed the strikers on June 6, 2010.
The Mexican Attorney General's office and the Federal Secretary of Public Security have admitted that police, numbering over 3,000, were deployed to inspect the mine installations under a ministerial order - not to forcibly remove strikers. Since the mine inspection had already been completed, the police had no legal grounds to enter the facilities.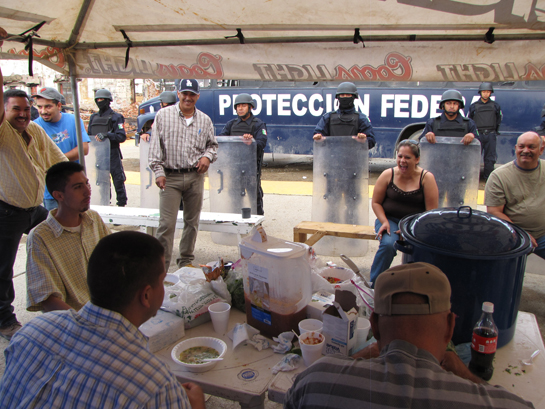 Los Mineros copper strikers enjoyed a USW-provided Menudo breakfast at picket line on Aug. 20 in Cananea, Sonora.
In statements before a federal constitutional appeals judge, both the Attorney General and Federal Secretary of Public Security denied that police occupied the mine on June 6 - the date of the workers' forced eviction - despite overwhelming evidence to the contrary.
The August court decision grants Los Mineros a temporary injunction while a date is set for a hearing on a permanent injunction.
USW National Director for Canada Ken Neumann in Toronto – has also called on Mexican President Felipe Calderon to assist a peaceful resolution of the strike, which is mainly over issues of health and safety. During the past three years, Neumann and other USW Canadian leaders have made numerous visits with the Los Mineros strikers in Mexico.
"Grupo Mexico has little respect for the welfare of its workers in Cananea, whether they are Los Mineros members or strikebreakers," said Neumann. He points out that since June 6, at least one strikebreaker has been killed on the job in Cananea, and more than 25 have been injured, some seriously.
Police have helped strikebreakers operate the facilities and Grupo Mexico has announced it will expand operations.
USW District 7 Director Jim Robinson has frequently joined the Cananea picket lines with union members he represents from Indiana and Illinois. He says that Grupo Mexico's plans to force an end to the legal strike are premature. "Thousands of armed federal police attacked the miners with clubs, tear gas and helicopters. Now, Los Mineros members want the federal authorities and scabs to all leave Cananea peacefully."
Currently as many as 800 Los Mineros members and community supporters regularly gather around the copper mine installation's main gates as they wait for police to leave the premises.
According to Los Mineros strike leaders, the Mexican government is behind recent actions that have begun terminating electric power at some of the strikers' homes as another example of attempts to intimidate and frustrate their standing up for their rights under Mexican labor laws.
# # #